On the 18th of May, members of the ROCC Strategic Advisory Board (R-SAB) gathered for the second annual meeting of this thought-leadership event.
Following on from last year's successful inaugural meeting, we once again brought together inspirational leaders from some of ROCC's most dynamic and progressive partners across the UK.
Everybody on the board is chosen carefully to ensure there is a diverse range of ideas, perspectives and personalities in the team, to ensure that different challenges and opportunities get brought to the table.
This has enabled ROCC to work collaboratively with its customers, who now have the opportunity to sit down with senior management and influence the outcome of upcoming projects. It also creates a space for smaller companies to innovate with bigger companies, an opportunity they may not get otherwise.
What was discussed?
Members of the R-SAB come together to discuss a whole range of issues, with a focus on complete transparency, honesty and confidentiality to ensure everybody can openly discuss our businesses and challenges together. The key areas of focus include:
Sharing business successes and failures
Advising other members on best practice
Discussing industry challenges
Talking about current and future issues (including legislation)
Looking at what each business needs to improve.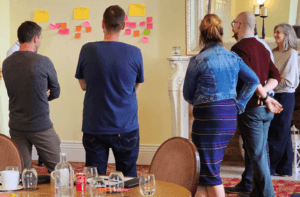 This year, some of the main discussion points included:
Artificial Intelligence and the role of ChatGPT
The problem with email
Siloed working
Improving auditing
Using automation to tackle the challenge of everything being a priority
Balancing customisation and standardisation
User experience and how it optimises or compromises journeys
Reflecting on May's event, Joanne Brown from the Thirteen Group, commented: "I found the whole day really useful. When we are at work, we live in our own little bubble, not realising the true extent of what is happening outside our bubble.
"Attending the event means we are in a position to network and listen to other people's views and ideas, as well as discuss the challenges we go through and provide solutions for this."
She added: "I am looking forward to future events, so we can continue the way we are going as a group, learning from other organisations and sharing our experiences, as well as agreeing on further system updates that will benefit everyone."
Also at the event was Kristian Barrett from Newport City Homes, who described the event as an "opportunity to help shape the future".
He added: "It was a really good experience as usual. ROCC employees were very friendly and accommodating, but my main takeaway was the amount of support we have received with the platform and how it's a huge difference from what other companies are experiencing with other software providers."
A warm welcome to three new members
We were delighted to have Gemma Kew, Thomas Somerville and Toby Wernham from the Aster Group join us at the May meeting as new members.
Commenting on his first event, Toby Wernham, said: "My first inaugural event was an amazing opportunity to share thoughts with other organisations and get some great ideas on the table to work on. It's such an open and welcoming group and it felt great to be a part of it."
He added: "Joining the R-SAB was a great opportunity to be part of shaping the future of ROCC's products, not only to benefit our own organisation, but to help bring improvements for other customers too.
"I'm excited to be a part of the R-SAB as a wider support network. One thing which was common from the day was that everybody was facing similar challenges, not just with systems and software, but with external factors too. I'd like to thank Peter Luck and ROCC for allowing us to be a part of the journey."
As the R-SAB continues to develop and its membership expand, we look forward to welcoming more enthusiastic professionals like Toby and his colleagues at Aster Group, as we continue to propel the industry forward and grow together.
Next steps
We will use the learnings from the day's event to take a deep dive into what the ROCC system can do, what more it should do, and look at how we can meet the needs of our housing association colleagues and customers.
We then revert back to our board members, who hold a vote on the enhancements they want now and the ones they want in the short-term (six months to one year), medium-term (one to three years) or long-term (three to five years). This then helps us to build out ROCC's five-year product development roadmap.
With those priorities in mind, ROCC will then manage the development of the solutions with our in-house software design and development team. After ongoing collaboration from the whole R-SAB group to tweak the designs, sign off on features and carry out beta testing, the software is made available to all of ROCC's customer base and to the market in general.
At the 2023 event, the energy and enthusiasm on the day were excellent, and we look forward to carrying this positivity into future meetings.
How to get involved
As a business within this sector, have you ever felt that we would all benefit from a more joined-up approach, where forward-thinking professionals come together to discuss best practices and ensure housing systems and solutions thrive?
If so, you'll be pleased to know that there will be opportunities to join R-SAB in the future and get your voice heard. ROCC partners wanting to join the group can start by initially reaching out to our Customer Success Team or by contacting Peter Luck directly to express interest. ROCC will then present the case for any new members to the R-SAB group.
From here, there will then be a process of assessing any new requests and ultimately the R-SAB group will determine who can join.
We shall look forward to hearing from you!
Find out more about ROCC today and get in touch with our friendly team.